Cyber Monday: Singularity Alert?
on
November 26, 2012
at
12:56 pm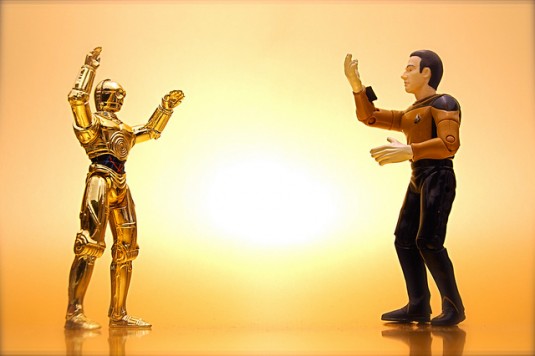 By Micah Hanks
Congratulations to all of you who survived Black Friday out there… I trust things went well for you in that regard (whereas I, for one, elected to remain indoors for as long as possible, as a few of you who may have seen my Black Friday editorial over at Mysterious Universe may have already ascertained).
On the heels of that grimmest day of holiday shopping that transpires annually, today is something of a holiday all unto itself; known rather informally as "Cyber Monday," an occasion when geeks take to the streets and scour department stores and shopping malls for great new deals on electronics goodies and gadgetry.
Thus, in keeping with the spirit of technological growth and innovation, I thought there may be no better way to celebrate such and underrated holiday of glowing geekdom than to look at the multitude of headlines this morning that appear to be pointing toward the imminent rise of machine intelligence, and the potential takeover of smart robots that employ artificial intelligence in a complex array of neurobics that challenges the thinking capacities of the human mind's fragile biology… or worse, maybe they'll just enslave us and turn us into hamburger meat… who knows.
A new Center for the Study of Existential Risk will soon be opened at Cambridge University for just such purposes of looking at the dangers associated with the rise of intelligent machines. The British Daily Mail recently reported:
Huw Price, Bertrand Russell Professor of Philosophy and another of the centre's three founders, said such an 'ultra-intelligent machine, or artificial general intelligence (AGI)' could have very serious consequences.

He said: 'Nature didn't anticipate us, and we in our turn shouldn't take AGI for granted… We need to take seriously the possibility that there might be a 'Pandora's box' moment with AGI that, if missed, could be disastrous.

'I don't mean that we can predict this with certainty, no one is presently in a position to do that, but that's the point.

'With so much at stake, we need to do a better job of understanding the risks of potentially catastrophic technologies
As we can clearly see here, somebody takes this stuff pretty seriously! And perhaps they should… based on a recent summary of advanced new computer science studies taking place at New York University, the New York Times reported tha new technology called deep learning, "has already been put to use in services like Apple's Siri virtual personal assistan… and in Google's Street View, which uses machine vision to identify specific addresses. But what is new in recent months is the growing speed and accuracy of deep-learning programs, often called artificial neural networks or just 'neural nets' for their resemblance to the neural connections in the brain."
Indeed, brain-like functions are becoming more and more commonplace within existing computer designs, and the advances of tomorrow may not even be entirely fathomable, at present. In truth, the expectations of future A.I. could far exceed anything that any of us are considering right now. Who knows… within just a few years, the celebration of "Cyber Monday" may have far less to do with mere gadgetry, instead incorporating new areas of industry that may stem from the presence of machines that can think as intelligently as humans do; perhaps even moreso.
Image by JD Hancock via Flickr.