Banking Fraud: John Keel Still Gives Us The Creeps
on
December 17, 2012
at
3:05 pm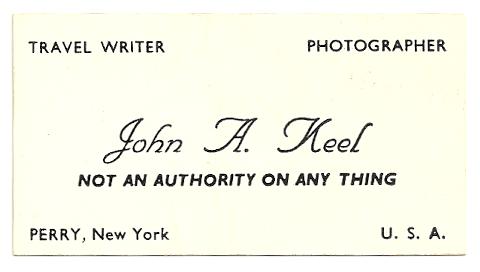 By Micah Hanks
For those Forteans out there who have an appreciation for the work of the legendary John Keel, there is a fine website, JohnKeel.com, moderated by Doug Skinner, a colleague of Keel's with access to a number of the late Fortean's personal files spanning the last several decades.
A recent post featured at the site, titled "The International Bankers", deals with a truly creepy message Keel received decades ago, claiming that some clandestine group calling themselves by the aforementioned title were somehow involved with the UFO mystery. The overall tone of the message was rather threatening (to put it nicely), with references to "Dr. Jessup" and "Al Bender" being made toward the end, alluding to the obvious suspicion that these two men's deaths had been connected in some way with their UFO research. The post can be viewed by clicking here.
So were the representatives of this group that had so ominously messaged Mr. Keel really an elite group of bankers overseeing worldwide affairs? Perhaps not…
Keel had apparently planned to mention these so-called "International Bankers" in a dictionary that compiled ufological and Fortean terminology, but the project was never completed (hmmm… could such a task be completed for Keel nonetheless, perhaps in a postmortem compilation?). Nonetheless, below is an image of one of Keel's reference cards, showing his planned entry for this supposedly clandestine group:

While at face value this letter does indeed seem troubling, the idea that there may have been hucksters overseeing mishaps and confusion from within the UFO field had been an idea that Keel had certainly entertained himself. Much the same, Skinner, commenting toward the end of the post, seems to share Keel's sentiments:
The idea of "International Bankers" having a hand in UFOs had long been woven into the antisemitic conspiracy theories of George Hunt Williamson, John McCoy, William Dudley Pelley, and others.  Somebody, though, went to the trouble of printing stationery and sending out crank letters.  I suspect that it was Gray Barker, cooking up confusion again; although I suppose it's unfair to blame all ufological pranks on him. Any ideas?
Again, as a researcher and admirer of Keel's work, I recommend going and viewing the original site (www.johnkeel.com), although I found this particular post so fascinating that I wanted to link a few of the juicier tidbits here. Indeed, John Keel manages to scare the living daylights out of us from beyond the grave… whether or not the clandestine groups assaulting him through the U.S. Postal Service were real or not… banking fraud, indeed!