Fortean Fascism: Nazi Fetishism and Occult Vogue
on
March 18, 2011
at
11:32 am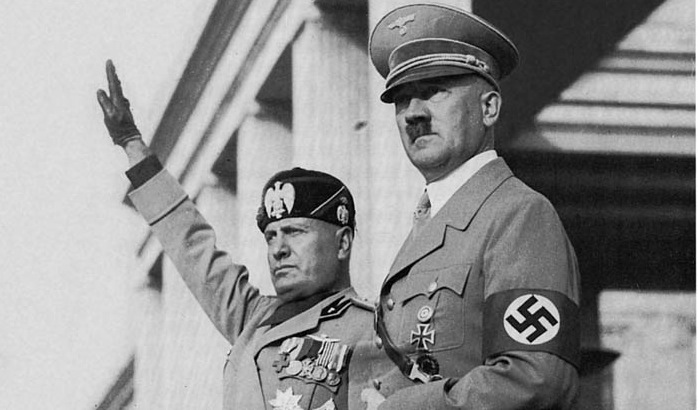 Man has always held a particular fascination with the dark side. Whether it be the intrigue and thrill of embracing certain cultural taboos while behind closed doors, or conversely, donning the appearance of darkness and danger so as to stand out in a crowd, the embodiment of negativity in our culture has always harnesses a particular appeal. As the controversial performer Marilyn Manson once put it, perhaps this is because "we all fall a little short of the glory" ourselves, and there is a certain natural tendency that results to embrace mankind's darker shortcomings, if only in sparing amounts.
As evidence of this, according to the numbers there seems to be a rise in interest among subjects pertaining to Nazism, says Clive Anderson, who yesterday presented his program "Nazi Gold: Publishing the Third Reich," on BBC Radio 4. Writing for BBC News Magazine, the author delved into this odd, slightly disturbing trend a bit, noting that "The phenomenal and continuing success of books about the Nazis includes fiction, non-fiction and science fiction." The well known occult connections to Nazism, as well as "Nazi magic, Nazi weaponry and Nazi doctors" are all elements Anderson lists at the forefront of this mounting wave of interest… or obsession, perhaps. After all, numbers have risen in the last decade, according to Anderson, who points out that "a staggering 850 books about the Third Reich were published in 2010, up from 350 in the year 2000."
Anderson, wondering if such fascination is "necessary to understand the workings of a deranged mind," also cites "something bordering on hero worship" and that the potential for "some form of Nazi fetish" could be at play here, emerging like a serpent time had forgotten from beneath the doldrumous surface of a placid, stagnate lake. Is this really the case? Or, perhaps, with time and distance separating us somewhat from the horrors of war, do people now feel more comfortable having frank discussions about the wicked atrocities perpetrated by the Nazis? One might even argue that such sentiments even embody an odd sympathy for their culture adopted by some, which, perceived as a moment in time, shows the Nazis as people forced into a kind of extreme nationalism as the byproduct of economic turmoil… thus resulting in something horribly corrupted; an unethical regime whose outward and self-imposed dehumanization revealed the darkest elements of the human soul.
True, the mystery here is of certain intrigue, and few could deny that one of the elements that bears such a forbidden attraction is the occult aspect present here, and how it related to the Nazis and their growing mystique. According to Oxford Historian Nicholas Goodrick-Clarke, fascination with Nazism has been around far longer than Clive Anderson recently expressed to the BBC, and in truth, this fascination alone may serve as the genesis for belief that occult interests were underlying the Nazis. Ideally, Goodrick-Clarke expressed in books such as Black Sun that notions of a "Vril Society" and assertions of conspiratorial manipulation of the Third Reich by unseen "secret societies" are almost wholly imaginary. However, there are a few occult and pseudoscientific elements that do manage to permeate the Nazi mythology.

Between May 1938 and August 1939, a German scientific expedition was led into Tibet by Ernst Schäfer, who, at the direction of Heinrich Himmler, was to survey the possibility for a concept known as Welteislehre, or a "global ice theory." This involved the notion that water in its frozen capacity served as the fundamental element of all cosmic processes; thus the development of the universe had stemmed from the influence of frozen planets and moons, as well as a "global ether" of similar frozen composition. Despite such interests in esoteric principles attributed to the likes of Himmler, Rudolph Hess, and even Hitler himself, it is said that Schäfer, as noted in his journals during the expedition, referred to his interactions in Tibet as "worthless goings-on," and cited the people there as "a whole army of quacksalvers."
Returning to Anderson's aforementioned idea of a modern "Nazi fetishism," there are a number of parallels to be made here also, though perhaps not in the conventional modern sense. After all, people today often tend to associate the term "fetish" with sexuality, as in an odd fascination or desire one may express toward certain risque activities with their partner, for instance. This, no doubt, could be projected on modern notions of Nazi fascination, though the actual literal definition of a fetish instead deals with any object which is believed to have some form of supernatural power, or in particular, a token, idol, or other object that has the power to control others. It has often been asserted that the true reason for Nazi expeditions such as Schäfer's were to seek this very sort of thing, embodied in notions of a Nazi search for the proverbial "Holy Grail," or even a quest for ancient Vedic knowledge of advanced flying machines such as the Vimanas described in the Indian epics (thus bearing fruit the likes of Nazis developing flying saucers and other advanced craft toward the end of the war. Such assertions, though intriguing, remain largely inconclusive).
But an even finer example of the fetish present in occult Nazism dealt with Hitler's alleged possession of a mandrake root, provided to him by astrologer Erik Jan Hanussen on New Year's Day in 1933. Goodrich-Clarke, though skeptical of many of the occult theories appended to Nazism, concurs that such a fetish-object had in fact been owned by Adolf Hitler, which represented the Fuhrer's "remarkable susceptibility to superstition or occult power." Within one month of receiving this mandrake fetish, which might be likened to a sort of "homonculus larvae" in keeping with medieval beliefs pertaining to the strange, man-shaped root, Hitler was appointed Chancellor of Germany. Hannussen subsequently was said to have predicted the burning of the Reichstag, the event which made way for Hitler's influence to become supreme with the arrest and sequestering of many opponents in the rival communist party. However, it must also be pointed out that Hanussen, who operated a small print publication, had issued a number of "predicitons" of this sort, some of which included the return of Wilhelm II to Germany by 1930, as well as liberation of the country's economic woes by the following year.
There is also the entire affair involving Rudolph Hess and his mad night-flight to Scotland (he had intended to land in England). Some scholars have claimed that Hess, whose interest in astrology and the occult was said to be prolific, had actually been manipulated through the careful workings of MI5 director Maxwell Knight and his assistant, Ian Fleming of later James Bond fame, who had secreted a number of phony horoscopes to Germany with hope of luring Hess and others into talks with England under the guise of an "underground Anglo-German alliance." According to Fleming biographer Donald McCormick, this careful operation had been overseen, in part, by none other than Aleister Crowley; in fact, McCormick makes a number of rather bizarre assertions in this regard, which include an effigy of Hess being burned in Ashdown Forest while Crowley, along with Knight and Fleming donning full magickal regalia, performed a ritual aimed at influencing the susceptibility of their Nazi target. This testimony was gathered, however, from one Amado Crowley, a man who for decades had claimed to be the illegitimate son of Aleister Crowley. The latter never once mentioned having such a successor in any of his autobiographical memoirs, which seems contrary to the former's claims of having been present at the aforementioned ritual while still in his pre-teens (Amado Crowley was born in 1930).
But perhaps one of the most stark and bizarre coincidences pertaining to Nazism, Hitler and the occult was Hitler's suicide, which occurred on Walpurgis night as Russian forces closed in on the Fuhrer Bunker. This bizarre instance, considering all the black magic supposed by so many to have surrounded Hitler and the Nazis, prompted the author Dusty Skylar to quip, "With Hitler gone, it was as if a spell had been broken." For some, the reign of the Antichrist had ended; for others, the death of a secular devilish dictator. By all accounts, the War was in its last days, with the ensuing use of atomic weaponry on Hiroshima and Nagasaki bringing the greatest global conflict of all time to a close.
If indeed the reports of occultism present among he Nazis are true, perhaps the lingering remnants of a long dead "magic" have indeed captured interest of the masses again after all this time, though merely through fascination of a time and an ideology long gone. Hence, as Anderson and others will no doubt continue to observe, a surge in sales of books and documentaries unlike those in previous years will likely continue, while the odd, sad remnants of mystique burn like dying embers around memories of the doomed Nazi regime. Even in the absence of the roaring fire, sometimes embers burn with a brighter, hotter heat than the flames themselves. It is obvious that this is where the Nazi legacy has settled, and though their flame died long ago (thankfully), we obviously still feel the heat rising from those long forsaken ashes.