"Vatileaks" Scandal: Dark Secret, Blackmail Spurred Pope to Resign
on
February 23, 2013
at
4:51 pm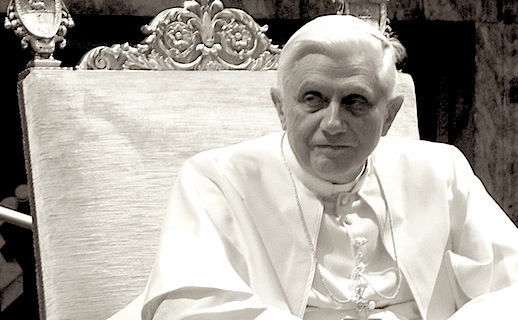 A storm of controversy–a hurricane, in fact–has surrounded the recent resignation of Pope Benedict XVI, and with it, an entire host of conspiracy theories that involve dark dealings within the Vatican.
Now, a report featured in the Italian La Repubblica has dropped yet another bombshell within this strange and sordid affair: allegations that Benedict XVI had actually requested an investigation into a so-called "Velvet Mafia" involving underground activities of openly-gay clergy members, along with further questions about the shady dealings of the Vatican bank, may literally have sealed the decision, which Benedict had allegedly resolved already as far back as December.
Writing for The Atlantic, Alexander Abad-Santos wrote this morning:
[T]he real reason [Pope Benedict] resigned is because he did not want to deal the repercussions of a secret 300-page Vatican dossier that allegedly found, among other things, an underground network of high-ranking gay clergy, complete with sex parties and shady dealings with the already scandal-ridden Vatican bank.
Pope Received "A Secret Dossier"
The Gaurdian featured a translation of the original La Repubblica Italian language report, corroborated at this point by an additional Italian weekly digest called Panorama. According to the story, the investigation found that, "the pope had taken the decision on 17 December that he was going to resign — the day he received a dossier compiled by three cardinals delegated to look into the so-called 'Vatileaks' affair."
In response to the allegations, a Vatican spokesman, Father Frederico said:
Neither the cardinals' commission nor I will make comments to confirm or deny the things that are said about this matter. Let each one assume his or her own responsibilities. We shall not be following up on the observations that are made about this.
Following the statement, the Vatican had criticized the media for what it called "false" reports.
Many find the Vatican's vague response somewhat condemning… and it perhaps bolsters the kinds of theories discussed by our correspondent Father Jack Ashcraft during a recent edition of The Gralien Report Podcast, who noted feelings shared by the late Father Malachi Martin and others that "there are literal Satanists operating within the Vatican."
At this point, almost nothing would seem surprising…
Image by Sergey Kozhukhov via Wikimedia Commons.