Do Plants and Insects use Inter-Kingdom "Communication"?
on
February 23, 2013
at
11:16 am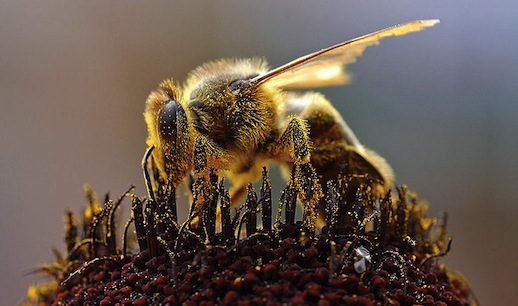 Last year, scientists at Exeter University were able to capture plants in the act of warning each other of danger on film. They achieve this by releasing a chemical gas that alerts surrounding plants about harmful intruders. Thus, by now it's no surprise when theories about how plants are able to communicate with one another are discussed, usually involving the use of a variety of complex processes that transfer information and enable preemptive defense systems.
But a new study has shown that plants may not just be able to communicate with each other, but even with the insects themselves. During the Exeter University study, not only were some plants observed creating an alert system, but they also appeared to be making these "exchanges" about the presences of such things as pollinators: bees and other "helpful" insects. Now, a completely new kind of interaction that actually bridges between the plants and insects themselves has been suggested, which relies on the electrical fields each party produces.
Plants May be "Calling" Helpful Insects
Previous research, such as a study carried out jointly by the Netherlands Institute of Ecology and Wageningen University, have suggested that insects might use the volatile gases released into the air in response to their presence as a kind of natural "telephone". But studies also show that flowers conduct a low negative electrical charge from the ground which, coupled with a multitude of other signals, acts as a beacon to helpful insects. While airborne, insects such as honey bees naturally generate a positive electrical charge with their rapid movement trough the air, which is filled with many charged particles. When the bee lands on a flower, these weak electric fields begin to interact; researchers suppose the flower can use this information to communicate that the pollen supply will be restored. Meanwhile, the insect also measures the variances in the field to tell when the pollen supply of that particular plant have been depleted.
Due to the absence of a brain or central nervous system, it's hard to postulate that plants could experience anything similar to how a human or an animal experiences feelings such as pain, pleasure, fear or happiness. But given that we're still learning that plants have harnessed complex, though subtle varieties of communication, there may yet be merit to further research into the nature of what some researchers have supposed may be a sort of "plant consciousness." Cleve Backster became known decades ago for claiming to have measured plant "reactions" after hooking a polygraph machine to a plant in his office, and measuring how various flora responded to things like threat and anger. However, it was debated whether the fluctuations the machine's seemed to show could have been more easily influenced by changes in the room's humidity, or various other conditional changes. Although his findings were not widely-accepted (or revered) in the scientific community, many occult and parapsychological theorists took to the study, and have used Backster's theories to help substantiate practices such as dowsing, and even claims of remote viewing.
Although this research didn't conclusively prove that plants are able to experience feelings as other sentient intelligences may do, it does show us that, however strange any particular method may be when employed for calculating the unknown, in the world of science, there is room for trial and error, and even speculation, in that these "unconventional" methods may provide unique data sets which may one day prove useful. While Backster's theories aren't widely accepted, many fringe theorists still reference them, and question whether some of the data he reported years ago might be able to relate to the ongoing observations of plants and their apparent ability to "communicate."