Attack of the Flying Gople: UFOs, Jellyfish and Arthurian Witches
on
February 6, 2010
at
2:28 pm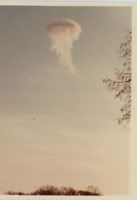 During an evening flight in June of 1954, Captain James Howard was en route from New York to London piloting a BOAC Stratocruiser when something remarkable—and frightening—occurred. According to the testimony of he and his flight crew, an amorphous, black "jellyfish-shaped" object appeared on the horizon (similar to the Danish "Flying Gople" pictured, right), remaining visible at a distance above the Labrador coast. Several dark "blob-like objects" accompanied what Howard called a "mothership." "I think there's no question that it was no illusion," he stated in an interview shortly after the encounter, "and that it was being intelligently handled." Fighter aircraft were sent to investigate shortly after the sighting, and as they approached, the smaller UFOs were absorbed by the larger object, which then suddenly disappeared.
More than fifty years have passed since the appearance of Howard's "jellyfish," prompting many to assume the strange encounter would be left to speculation in the annals of Ufology. However, Scottish UFO investigator Martin Shough now believes he has solved the half-century-old mystery. According to a new article in Fortean Times, Shough has gathered weather data and primary evidence taken from the crews' statements shortly after the incident. At the FT website, the following conclusions are drawn:
Shough concludes there can be little doubt the crew and passengers saw an unusual mirage. And far from being rare, he discovered this sighting was just one of "an unrecognised class of very similar mirage observations from aircraft". His definitive study proves it is poss¬ible to resolve even the most perplexing UFO reports with enough time and effort. It also shows there is valuable scientific data lurking within the noise that constitutes the UFO enigma.
Case closed? Perhaps… but the elements of esoterica that nonetheless swarm around this unique story are only beginning to come to light. Read on, dear seekers of supernatural lore…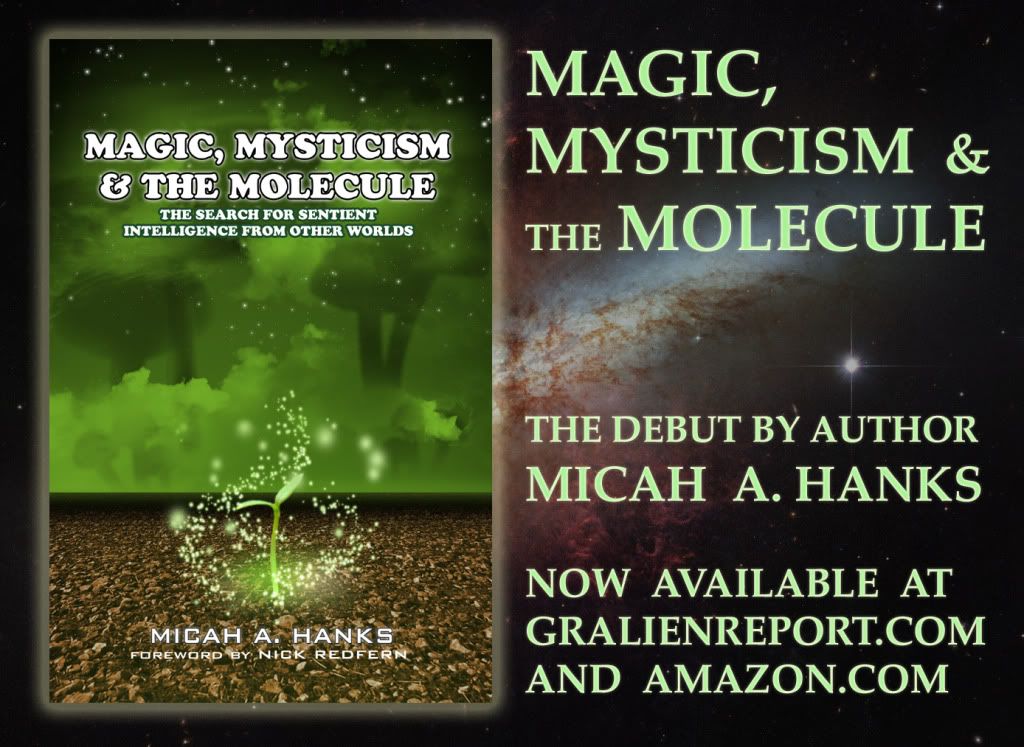 The mirage phenomenon referred to here, in one of its various forms, has a rather Fortean name, "Fata Morgana," which at present I find preferable due to its esoteric allusions. Fata Morgana refers to none other than Morgan Le Fay, the witch prominent in Arthurian legends and "fairy mistress of the of the salt sea." The latter association between Morgan Le Fay and the sea stems from around the time Wolfram von Eschenbach was penning his Arthurian epic Parzival, in which he calls the Sicilian volcano Etna "The Mountain of Morgan the Fairy". This coincided with legends detailing how sirens, fairy temptresses of the deep who swam the warm waters around Sicily, would use their infectious song to lure weary sailors to their deaths. This, it seems, led to an association with the folkloric Morgan le Fay being dubbed a siren, and even"mistress of the fairies of the salt sea", in French Arthurian texts.
Tying Fata Morgana in with Howard's sighting of a Jellyfish UFO, of particular interest here are legends that state how Morgan created "boats that fly above the sea and never approach the shore and caused golden castles to float in the air above the straits of Messina, castles that no one was ever able to reach and that were nothing more than an optical illusion—a mirage, the Fata Morgana, as she was called in Italy." The idea of "boats that fly above the sea" sounds eerily reminiscent of some maritime UFO encounters of old; could it be insinuated that some seagoing UFO reports over the years stemmed from the Trickster-like Fata Morgana?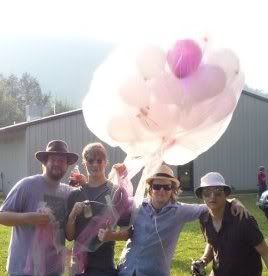 ABOVE: The Gralien crew tests out our own "Flying Gople" in the Summer of 2009 (LEFT TO RIGHT: Forrest Connor, Caleb Hanks, Cristopher McCollum and Micah A. Hanks)
One final (albeit strange) parallel worthy of noting here also deals with the idea of jellyfish-shaped UFOs in general. One famous photograph of a Danish UFO, dubbed "The Flying Gople," depicts what is understood to be a cloud-like burst from a smokestack photographed in the vicinity of a nearby factory (see image at the top of this article). Strange atmospheric conditions permitted the moisture pocket to take on a strangely saucer-like shape, as well as formations resembling long appendages stemming from its base. Altogether, the object resembled a huge jellyfish floating in the sky! Although this photograph was understood to be a freak combination of various atmospheric influences, I was captivated with the idea that strange jellyfish-like UFOs sometimes appear (and which can be constructed using various methods, as in the demonstration featured in the video below):
Flying Jellyfish Robot from Tierney O'Dea on Vimeo.
Excerpting a segment from an earlier blog post on this subject that appeared here at the Gralien Report, there are also early fiction references to "atmospheric life forms" in the work of none other than Sir Arthur Conan Doyle that resemble flying jellyfish. In his 1913 fiction story "The Horror of the Heights," the following ornate passage of the discovery of a large, tentacled monstrosity gliding along in the Earth's upper strata is related by a pilot who dared to glide to altitudes that challenged Earth's extremities:
The thought was in my mind when my eyes looked upwards and I saw the most wonderful vision that ever man has seen. Can I hope to convey it to you even as I saw it myself last Thursday? Conceive a jelly-fish such as sails in our summer seas, bell- shaped and of enormous size–far larger, I should judge, than the dome of St. Paul's. It was of a light pink colour veined with a delicate green, but the whole huge fabric so tenuous that it was but a fairy outline against the dark blue sky. It pulsated with a delicate and regular rhythm. From it there depended two long, drooping, green tentacles, which swayed slowly backwards and forwards. This gorgeous vision passed gently with noiseless dignity over my head, as light and fragile as a soap-bubble, and drifted upon its stately way.
Perhaps Doyle's fantastic meanderings of the mind would inspire Charles Fort to muse along the same lines in his 1931 book Lo!, in which he discussed giant beasts that could exist in the skies above us. More than two decades later, an article published in 1955 in American Astrology magazine by Countess Zoe Wassilko-Serecki described similar creatures as "large luminous bladders of colloidal silicones that assume different shapes depending on whether they are stationary or moving." This particular description of alleged "sky beasts" seems to draw again from Sir Arthur Conan Doyle's descriptions of monsters in his fiction, as illustrated n the following passage:
But a more terrible experience was in store for me. Floating downwards from a great height there came a purplish patch of vapour, small as I saw it first, but rapidly enlarging as it approached me, until it appeared to be hundreds of square feet in size. Though fashioned of some transparent, jelly-like substance, it was none the less of much more definite outline and solid consistence than anything which I had seen before. There were more traces, too, of a physical organization, especially two vast, shadowy, circular plates upon either side, which may have been eyes, and a perfectly solid white projection between them which was as curved and cruel as the beak of a vulture. The whole aspect of this monster was formidable and threatening, and it kept changing its colour from a very light mauve to a dark, angry purple so thick that it cast a shadow as it drifted between my monoplane and the sun. On the upper curve of its huge body there were three great projections which I can only describe as enormous bubbles, and I was convinced as I looked at them that they were charged with some extremely light gas which served to buoy up the misshapen and semi-solid mass in the rarefied air… Its method of progression… was to throw out a long, glutinous streamer in front of it, which in turn seemed to draw forward the rest of the writhing body. So elastic and gelatinous was it that never for two successive minutes was it the same shape, and yet each change made it more threatening and loathsome than the last.
Indeed, there appear to be parallels between descriptions of "sky beasts" the likes of Howard's mirage that pertain to Ufology's golden era; could they also have been the phantasmal "Fata Morgana," or might they draw from Doyle's own imaginative creatures? Probing further, could this have been the inspiration for such monsters that pepper more fringe UFO theories proposed by the likes of Trevor James Constable, Charles Fort, and even Ivan Sanderson?