Dr. Raymond Moody's Psychomanteum Mirror
on
April 16, 2008
at
10:55 pm
There may be far more than meets the eye when considering this strange, somewhat ghostly-looking photograph, depicting two somber-looking gentlemen staring at their reflection in an antique mirror. Who are they? What about this mirror could hold their attention so intently?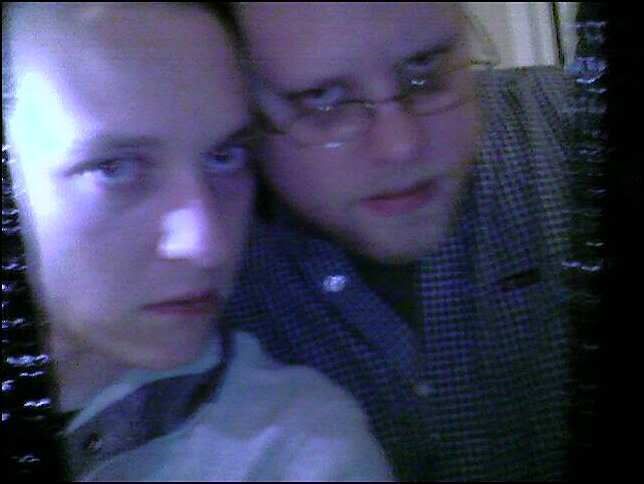 No, these individuals aren't ghosts captured in the mirror's reflection, staring at us from another realm; nor are they a couple of drunks who stumbled in off the streets from someplace for a chance photo-op. Truth be known, the mysterious gentlemen in this photograph are none other than (left to right) yours truly, gazing alongside a rather ominous-looking Joshua P. Warren into none other than the mirror once owned by renowned psychoanalyst and researcher Dr. Raymond Moody.
Moody, a psychotherapist and pioneer in the field of implementing the ancient Greek "Psychomanteum" along with modern psychological grief counseling, is one of the most well-respected researchers in the field of near-death-experiences and contact with deceased loved ones from beyond the grave. His books, including Life After Life document his inquiries into the nature of human contact with the dead, and this past February Joshua and I had the distinct pleasure of meeting Moody at an event attended by the likes of Rosemary Ellen Guiley, Mark Nesbitt, and Ray Buckland.
Of course, the photo itself, as well as the comedic "fascination" Josh and I portray in it, is more than a bit tongue-in cheek. However, if you've read this far, at very least I owe you an explanation as to why the two of us might jest about staring into this particular mirror so intensely (and conveniently, in front of a camera). If one were to consider the idea of "haunted objects", the mirror itself may indeed have a bit of "juju" in it, although Dr. Moody's wife, from whom Joshua obtained the object, didn't seem to think so. Nontheless, it is a fascinating piece of history for anyone interested in the study of life-after-death and communication with the deceased. Therefore, allow me to shift the focus back to what a Psychomanteum actually is for a moment, and take a look at how a mirror like this could allow one to do as I've described.
As mentioned before, the psychomanteum by design dates back to ancient Greece, and in implementation works very similar to the process of "mirror gazing" or "scrying". In ancient times, it was believed that a reflective surface could serve as a conduit to the spirit world, and based upon this notion, some of the more elaborate psychomanteums of the era may have involved mazes which the participants wandered through before reaching the center, where the actual "contact" would take place. Within, the participants would find a dimly lit room, light for which poured through a tiny hole oriented just above a large dish filled with water which provided a very clear, reflective surface. After various forms of meditation, fasting, or other spiritual preparation, one wishing to contact the dead would wander into the labyrinth. Upon reaching the dish of water, they would gaze at their own reflection until the deceased individual's reflection replaced their own, at which time an exchange betweeen them could supposedly take place.
Fast-forward to the present; the modern "traditional" psychomanteum far more simple. The typical setup involves a chair positioned in a dark room so that the person sitting in it is able to stare into a mirror hanging on an adjacent wall just above eye level. After hours of (sometimes rigorous) mental preparation which involves focusing on a deceased loved-one or other person of interest, many have claimed to have had paranormal experiences occur within such environments.
After our weekend with Dr. Moody, Joshua was able to obtain the very mirror which Moody himself has used for the last several decades in his own studies. Hence, now you know the truth about Dr. Raymond Moody's Psychomanteum Mirror, and why a couple of knuckleheads like Josh and I would photograph ourselves staring so intently into it.