Enabling the Disabled: Restoring Movement with Machines
on
January 4, 2013
at
1:55 pm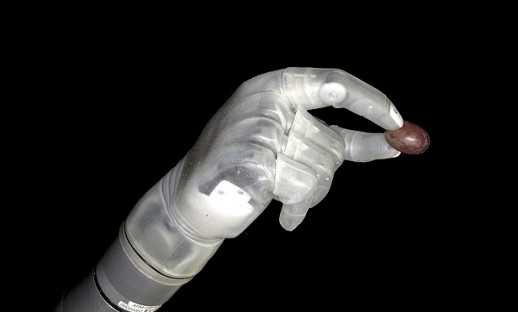 By Caleb Hanks
Former fiction murder/mystery writer Jan Scheuermann has, for the last 10 years, lived a in a motorized wheelchair, unable to move except for her head and neck. But despite being diagnosed with spinocerebellar degeneration, Schaeuermann is now giving hope to the estimated 150,000 others affected by the disease worldwide.
Having volunteered to participate in a program led by researchers at the University of Pittsburgh School of Medicine partnered with UPMC, she's now been given the chance to demonstrate to the world the vast beneficial implication of thought-integrated machines. With increasing ease, Scheurmann is now able to control a robotic arm via thought that enables her the use of a fully functional limb, only slightly behind the speed and dexterity of an actual human arm.
This truly inspiring story not only shows the insurmountable will humans possess, but it also highlights the spirit of our ingenuity, intelligence and the wildly vast realm of possibility that awaits us. For many that consider themselves "transhumanists" the idea of controlling a mechanical appendage through thought might not seem too far beyond the scope of believability; however, to also see footage of it (especially with the ease Schaeuermann is shown using the technology), most anyone would find this technology both exciting, and promising.
Mini Machines
Miniaturization of various machine interfaces, paired with the enabling of wireless control in a wide spectrum of innovative gadgets, are two trends today that we seem to be speeding towards. Today, we see prosthetic patients sending signals to robotic limbs via medicine bottle-sized machines with large wires running out of the top, but within a few years, this very same technology may be more easily achieved using small neural implants, much like a wireless mouse connected into a computer.
But aside from the promise this technology will lend to innovative new prosthetic limbs, innovations in this field may also enable virtually anyone the use of mentally-controlled robotic avatars, and from a distance. We might even postulate that integrating exoskeleton technology (the likes of which we've seen already with the eLEGS which Berkeley Bionics used in military outfits to help soldiers carry heavy backpacks for long distances). Advanced exoskeleton systems will also be capable of aiding cases similar to Sheurman's, where those with degenerative spinal diseases or other injuries may be able to walk once again.
Teamed together these breakthroughs could empower the world of the disabled allowing them to live completely normal lives, then again, that all depends on if other technologies do not advance before hand completely negating the need for such elaborate bionic systems. Many believe that the Earth is in an evolutionary path towards an "upgrade" beyond potentials we could possibly fathom. Whether we choose to fear or embrace the potentials, that day could be here before we know it.
Image courtesy of Military Health via Flickr.