Abduction and Anomalous Non-Alien Kidnappings
on
January 16, 2013
at
1:52 am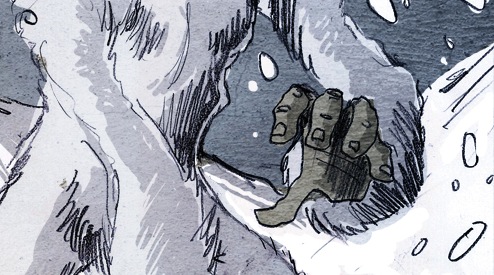 Abduction… it's a term that, right from the outset, bears an instant, and irrevocably unsettling air. Defined in the nominative, this entails "the action or an instance of forcibly taking a person or persons away against their will." And in the fields of Forteana, it has become almost synonymous with supposed ongoing interactions between humans and extraterrestrials from other worlds.
Following this "alien" line of thought for a moment, it's fitting that as I sit writing this article, I've stopped between flights at a restaurant on the premises O'Hare International Airport in Chicago, the location of one of the single most riveting (and widely reported) UFO sightings of the last decade. Obviously, to evoke a term such as "abduction" is to draw immediate parallels with extraterrestrial visitation, and thus ufology as well. However, this seems to be, at times, a superficial kind of connection that, in the opinion of this author, should not become exclusive in terms of linking UFO phenomenon with presumed alien entities, whether or not a verifiable connection does actually exist. And thus, I remain wary of imposing any similar associations between unidentified aerial phenomenon and nonhuman abduction scenarios, or viewing them as being mutually exclusive.
One key reason the study of "paranormal abductions", to term it more generally, might benefit from severing its exclusive association with UFOs has to do with the fact that human kidnappings by nonhuman entities occur in a variety of other fields of Forteana just as well.
It is true that, when one examines case histories in the study of atypical, unexplained animalia—or cryptozoology, as the Forteans like to call it—we find here that the details of people's alleged encounters are often sparing at best… much like the seemingly impossible "high strangeness" that encapsulates many UFO reports. A routine examination of most Bigfoot sightings, for instance, will reveal dodgy encounters with hairy man-beasts, often seen at a considerable distance relative to the observer, and occurring quickly enough to warrant some question as to the accuracy of the witnesses' perception of what may actually have been seen.
Though remaining less often observed, and certainly less widely reported than the mere glimpses of nonhuman beings many purport to have, there are a number of stories that also involve what might be called cryptozoological abductions. And again, abduction phenomenon doesn't seem to be exclusive here, either; if anything, it becomes quite possible that the entire motif involving abduction of people by nonhuman beings of strange origin is rife throughout the study of strange phenomenon in general. From fairy lore of the British Isles, where semi-spectral spirit folk capture and keep the occasional wary wanderer, to those quasi-physical nocturnal encounters with presumably "alien" beings from other worlds.
And thus, to label the phenomenon in borrowing the conventions of my colleague, Mr. Redfern, here we will discuss a few of those instances where "abduction" phenomenon involves nothing presumed to be extraterrestrial, but instead merely captures of the cryptid kind.
Abduction by Sasquatches?
Probing the mythologies of the indigenous tribes of the Pacific Northwest, there are a number of Native American tribes that share legends involving Sasquatches kidnapping young Indian women for the likely purpose of mating; of course, the presumption here is that if breeding were somehow successful, the result would be some kind of near-human hybrid species. There is a stark parallel that emerges here between the mythos of folkloric Sasquatch kidnappings, and modern claims of alien abduction, where interstellar beings are alleged to kidnap humans for similar purposes of technological interbreeding, with hopes of producing human hybrids. And thus, an archetypal mythology seems to hide beneath the greater lineage of seemingly unrelated paranormal phenomenon, in that a recurring theme of sexual imprisonment for purposes of hybridization with humans remains a constant.
But beyond the realm of Native American myths, there are a few modern instances where claims of human abduction by Bigfoot creatures seem to have become a reality. Arguably, the most famous incident of along these lines transpired in the 1920s on Vancouver Island, off the coast of British Columbia, near a location called Toba Inlet. Albert Ostman, a vacationing prospector searching for a lost silver mine purported to exist in the region, would return from his visit to the island's remote wilds claiming that he had been scooped up with a few belongings into his sleeping bag one evening, and carried away by a large, male Sasquatch.
There had been several nights of disturbance at Ostman's encampment on the island, and though having been warned by an old Chehalis native about the wild men that believed to haunt the mountainous regions on the island, he nonetheless remained skeptical when belongings appeared to have been moved around his campsite, with cans pried open by some unseen intruder. Suspecting a hedgehog, Ostman gathered a number of his more susceptible belongings, along with his gun, and slept out by the fire one evening. When he awoke, he found himself deep within his sleeping bag, jostling to the steady pace of large, heavy footsteps.
This terrifying episode would last for a number of hours, before Ostman was finally dumped in the middle of a large clearing at the base of a valley enclosed by steep sides. Around him, he could hear chattering voices, and as his eyes adjusted to his surroundings in the early morning half light, he could see that his captors weren't quite human; they were much larger, and covered in short hair that grew all over their bodies.
Ostman would spend several days with his inhuman captors, a family of four consisting of two males and two females. The unsettling impression Ostman had been getting was that the "old man," which had brought him here, seemed to intend for Ostman to pair with the younger female of the two (again, we see the mildly sexualized nature of the hybridization meme surfaces). After a few days, Ostman managed to fool the two males into consuming the consumption of chewing tobacco from a snuff tin he possessed; as the larger, more imposing member of his captors lay choking, he was able to evade the family's matriarch by firing a single shot into the air that startled her. His slow return to civilization would last several days, and once he finally made it back, his strange story would be kept from the general public, for the most part, until his claims garnered the interest of the likes of journalist John Green and his Bigfoot-hunting associate, Rene Dahinden, decades later.
A similar incident was discussed by British Bigfoot researcher Peter Byrne, who wrote of a man known as "Muchalat Harry" who claimed he was similarly kidnapped by Sasquatches. As Byrne wrote of the incident in his The Search for Bigfoot (1975):
"One night, while wrapped in his blankets and clad only in his underwear, he was suddenly picked up by a huge male Bigfoot and carried off into the hills. He was not carried very far, probably a distance of about two or three miles, at the most. When daylight came he was able to see that he was in a sort of camp, under a high rock shelf and surrounded by some twenty Bigfoot They were of all sexes and sizes. For some time, they stood around him and stared at him. The males to the front of the curious group females behind them and young ones to the rear. Muchalat Harry was frightened at first and his fear grew to terror when he noticed, he said, the large number of bones lying around the campsite. When he saw these he was convinced that the Bigfeet were going to eat him."
Having been captured under circumstances similar to Ostman's, Harry attested that the creatures bore a peculiar fascination for the long underwear he wore, as if perplexed by the stretchy, false "skin" that covered his body.
"The Bigfeet did not harm him in any way. Occasionally one came forward and touched him, as if feeling him, and when they discovered that his "skin" was loose — it was in fact his woolen underwear — several came forward and pulled at it gently."
Some of the details of Muchalat Harry's encounter—and more specifically, whether there had ever been the impression that he had been brought for purposes of being an unusual kind of breeding stock—remain unclear, although it was said that the man had suffered from symptoms of severe shock and post-traumatic stress in the weeks following his escape from the Bigfoot creatures; then again, based on the bones the witness claimed to see piled around the Sasquatch encampment, it could be argued that the frightened trapper had made up his mind what the purpose for his capture had been already. According to Byrne's account, Harry fled the site eventually, and evaded being captured again by running twelve miles back to the location where his canoe had been docked.
Are these stories of Bigfoot abductions of any real merit, or were they merely folk tales and fantasies, offered by the bored yarn spinners of yesteryear, seeking a few minutes of fame? The latter of the two cases seemed to involve a witness (or perhaps victim, as it were) who remained largely uncomfortable with the nature of his encounter. Ostman, while no longer particularly unnerved at the time his interviews with Green and Dahinden had taken place, did maintain steadfastly to the details of his story, with Green and other researchers noting that Ostman's claims had never faltered, changed over time and throughout repeated questioning, or seemed to conflict otherwise. And famously, when pushed for details about the sexual makeup of his would-be suitor, the reticent Ostman would only bashfully claim that he "wouldn't know anything about that."
The consistent meme of paranormal or otherwise anomalous abductions for purposes of interbreeding and hybridization with humans remains a curious, albeit seldom addressed, facet of the greater field of Forteana. Does this suggest a broader underlying theme within the study of the unexplained, as expressed to some degree in the research of or do such stories instead merely show that disparate instances of human abduction occur in what appear to be unrelated areas of research?
Yeti image by Philippe Semeria