Nevermore: The MIB at Edgar Allan Poe's Grave
on
February 20, 2013
at
11:35 pm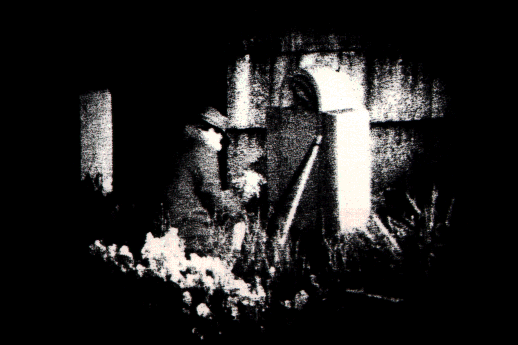 Modern UFO research is, at times, rife with reports of alleged interactions with Men in Black (MIBs), the infamous and unsettling UFO-silencers that are purported to visit unsuspecting witnesses shortly after their encounters with strange aerial phenomenon. For the most part, the MIB represents an intimidating element within the UFO subculture; a portent to the ultimate fate awaiting those who dare to speak out about their personal encounters with different varieties of unexplainable phenomenon.
The inherently "evil" presence of an MIB, especially in a folkloric sense, seems to be a matter of question in relation to his appearance. In the modern UFO-related cases, strange men in black suits are said to appear before witnesses of strange aerial phenomenon, leaving virtually no evidence of good intent, let alone any physical proof of their visitation.
But in contrast with typical appearances of "Men in Black," there was one remarkably underreported modern instance that involved a very strange "MIB"-like character, said to have haunted the grave of the ill-fated author of the macabre, Edgar Allan Poe, for close to seven decades. While this man was no MIB in the ufological sense, it cannot be argued whether this particular phantom of the night actually existed… in fact, the yearly sojourns of this unidentified man clad in black, who appeared each year to drink expensive cognac at Poe's grave for close to seven decades, is well documented as fact; along with the strange messages this character would sometimes leave during his mysterious annual visits.
"Poe's Toaster": A Lifetime with an "MIB"
For seven decades, there was a well-documented tradition involving the annual appearance of an enigmatic Man in Black at the grave of horror and suspense writer Edgar Allan Poe. As the legend goes, this individual would appear, without exception, early in the morning hours of January 19th, the date of Poe's birth. The man, whose identity remains mysterious even to the present day, would emerge each year from the shadows of the midnight hour, clad in black colored garb, a long brimmed hat, and a white scarf that gave an appearance similar in effect to Walter Gibson's pulp novel antihero, The Shadow.
Upon reaching Poe's grave, this curious Man in Black would produce three roses and a bottle of cognac, from which he would drink one glass after raising it in honor of the ill-fated poet. Then, placing the remaining bottle of spirit by the gravestone, the roses would be arranged in a way that became known as the apparition's signature, just before disappearing again into the night (see image above, a rare undated photo of the so-called "Poe Toaster" carrying out the bizarre annual ritual).
Conventional assumptions about this rather ghostly ritual suppose that a man who, upon aging to a point that the annual rite could not be continued, had passed his strange tradition along to a son, or perhaps some other trusted inheritor. Without question, the story is more than mere myth, and actually is documented as having occurred before witnesses for many decades, with some accounts of the so-called "Poe's Toaster" going back to 1949.
In 1993, a note was found at the grave following the visitor's annual appearance, reading simply that, "The torch will be passed." Supposedly, a subsequent note confided that Poe's original MIB had passed away in 1998, leaving the tradition for his sons to carry on. However, after a 2006 attempt at intercepting the so-called "Poe Toaster," copycats began to emerge, and as of 2010, the enigmatic visitor has failed to appear any longer. Legends have persisted about the mysterious toaster nonetheless, many asserting that his appearance for nearly seven decades had been aided by supernatural means.
Interestingly, a similar "Woman in Black" has been reported at the grave of Rudolph Valentino in recent years. To this day, neither she, nor the identity of the mysterious "Toaster" at Poe's grave, have ever been solved. Who was this curious and darkly-clad messenger in the night, who thought so fondly of Poe and his legacy that he would spend seven decades visiting the grave of one of America's best-known horror authors? Had it merely been an admirer, who eventually handed a family tradition down to his own progeny, for purposes of carrying out a strange rite that the surrounding community had never been intended to understand? Had the entire set of circumstances merely been planned for purpose of publicity, drawing attention to the humble little church where the strange MIB would make his annual visit?
Since the regular visits seemed to end in 2009, it appears that the mystery of the rose-carrying toaster who visited Poe's grave every year for seven generations will remain as such… though fear not, we'll spare our readers the conventionally-corny "nevermore" joke that could be appended to the ending of this article, favoring instead the following link to this memorable performance of Vincent Price in "An Evening with Edgar Allan Poe":