Talk Like a Man, Mongoose Style?
on
January 14, 2013
at
7:51 pm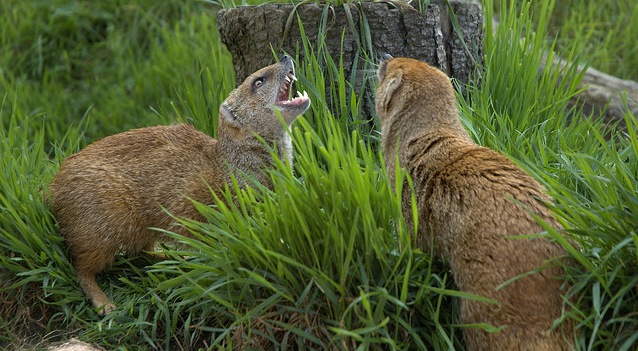 In old Indian traditions throughout parts of Eurasia, there is a belief that the mongoose is unique among other creatures of the wild. The reason for the animal's apparent novelty, it seems, has to do with the notion that a mongoose, if trained properly, might be capable of learning to speak.
According to modern science, it is widely held that humans are the only species on Earth with a complex ability to communicate verbally. However, in a rather curious new development amidst the kingdom of animalia, scientists have suggested that the mongoose, a ferret-like creature indigenous to Africa and Eurasia, is actually capable of what are fairly complex forms of verbal communication.
As reported at the blog of the Sunday Mercury, "Scientists found that the monosyllabic call of the banded mongoose is structured in a similar way to vowels and consonants in human speech… Each call, which can be viewed as a single 'syllable', lasts just 50 to 150 milliseconds, yet consists of different structural sounds."
The science underlying this discovery is interesting. However, it may not be entirely surprising to a few supernaturalists out there, who may be aware of the strange history regarding one particular talking mongoose of Fortean fame…
The Dalby Spook: A Talking Mongoose?
The story of "Gef," also referred to as "The Dalby Spook," is one of the more curious in the modern folklore surrounding the British Isles. Investigated by famous ghost hunter Harry Price, the story of Gef, a poltergeist-like entity which haunted a small country farm on the Isle of Man beginning in September of 1931.
In a curious series of encounters with the family of James and Margaret Irving, "Gef," as the entity preferred to be addressed, claimed to be a mongoose born more than 70 years earlier in New Delhi, India. Neither James, nor his wife, ever claimed to have seen the creature–instead only hearing the seemingly disembodied voice of the "mongoose." However, James' daughter Voirrey, who had been 13-years-old at the time of Gef's appearance, would reveal to Fate Magazine decades later that there had in fact been a creature which spoke to her family:
"It was not a hoax and I wish it had never happ­ened. If my mother and I had our way we never would have told anybody about it. But Father was sort of wrapped up in it. It was such a wonderful phenomenon that he just had to tell people about it… Yes, there was a little animal who talked and did all those other things. He said he was a mongoose and said we should call him Gef. But I do wish he had let us alone."
Voirrey's description of the creature called Gef involved an animal "the size of a small rat with yellowish fur and a large bushy tail." This curious description, as noted by journalist Christopher Josiffe in the Fortean Times, bears little resemblance to an actual mongoose however. On the other hand, Gef hadn't maintained exclusively that he was, in fact, a 73-year-old mongoose:
Gef claimed at times to be "an extra extra clever mongoose", an "Earthbound spirit" and "a ghost in the form of a mongoose". He once said: "I am a freak. I have hands and I have feet, and if you saw me you'd faint, you'd be petrified, mummified, turned into stone or a pillar of salt!"
The observant reader may have already noted that Voirrey, who had been 13 at the time of Gef's appearance, was indeed the only witness to physical manifestations of the entity. This alone bears a particular similarity to a number of purported cases of poltergeist phenomenon, in which young teenagers (often females) tend to be at the epicenter of the various paranormal phenomenon transpiring around their families.
So had there actually been a living entity, and one that not only resembled a mongoose, but which had been capable of speaking? Or does the odd story of Gef lend itself better to similar poltergeist and haunting cases that involve the unstable hormonal and emotional flux that occurs with teenagers? Regardless, perhaps there are yet other parallels that can be offered here today, with the scientific recognition of complex verbal communication between denizens of the mongoose species. Had it been mere coincidence that so many years ago, in the presence of a young girl and her family, a mongoose had claimed to be able to speak?
Image by Audi inspiration via Flickr.