Haunting Reads: An Excerpt of the New Book, "Reynolds Mansion: An Invitation to the Past"
on
November 10, 2012
at
12:18 pm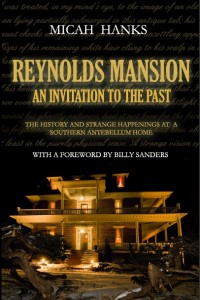 For listeners of my weekly Gralien Report Podcast, I'm certain that my new book, Reynolds Mansion: An Invitation to the Past will be a very familiar subject already. This story details my own personal, in-depth investigation into the history and strange phenomenon associated with The Reynolds Mansion Bed and Breakfast, operated by my friends Billy Sanders and Michael Griffith; and yes, the historic home is said to be very, very haunted. 
I'm also very glad to announce that the book is selling quickly, and that in addition to being able to purchase it at Amazon.com in print, you can also obtain eBook copies for your Kindle as well. But for those of you out there who haven't gotten your copies yet, I wanted to share a brief excerpt from the book's eighth chapter, which details a number of the strange stories of ghosts and other odd occurrences associated with the house. I've included this below for you enjoyment… and keep in mind, this is just the tip of the iceberg! This story gets far more strange (and scary) than most would imagine a "true ghost story" could ever get.
And now, let's get on to that excerpt…
Chapter Eight: Meaningful Coincidences
"What connexion can there have been between many people in the innumerable histories of this world, who, from opposite sides of great gulfs, have, nevertheless, been very curiously brought together!" 

-CHARLES DICKENS, "BLEAK HOUSE," 1852-53
SUNSET TRICKLED SLOW LIKE HONEY OVER THE HORIZON IN the distance, and from the porch of Reynolds Mansion, I watched the canvas of red, orange and grey spill across the sky ahead of me as I swirled melted ice in the bottom of my brandy glass, ceding to the beautiful indolence of the moment. I wished somehow to find a way to capture these seconds before twilight, to collect and store them away in some bundle that hid the essence of the day, perhaps to save for another evening with less natural promise and color than this one.
Tonight, I wished that the light of day receding behind the mountains in the distance might take with it the troubling questions that had haunted me since my arrival at the Reynolds family home. While they intrigued me, I nonetheless found myself consumed by their mystery. Even my dreams had been occupied by the house and its secrets; in one of these nighttime reveries, I found myself with a key to the place, and thinking it empty, entered to find it full of people I had known throughout my lifetime. I shuffled shoulder-to-shoulder past familiar faces, climbed the mansion's staircases, and made my way toward the building's upper levels; but soon realized that the modest three floors of the mansion I recognized continued further on, higher and higher up the ascending stairs, leading to hidden floors I had never known previously. I climbed higher, and upon reaching the apex, there were wide galleries with high ceilings, the likeness of some gothic cathedral in dark viridescent hues of olive green and mahogany. A massive veranda ran the entire length of the outside, and dark blue storm clouds whipped their chill against its stone balusters. What part of the Reynolds home was this, aside from some melancholy addition that had been built solely along the foundation that existed within my mind, and its contorted recollections of the outside world?
Within this large area at the summit of my haunted dreamscape, there were workers clad in white moving about with haste, busily preparing for some sort of event—a large masquerade or wedding, perhaps—and in the fervor of the moment, time hadn't seemed to grace any of these laborers with enough moments to spare discussing it with me. It goes without saying that dreams such as these are the stuff of symbolism, and can rarely be taken literally or at face value. Yet within my mind's recesses, I could very plainly see that the colors and essences of Reynolds Mansion were painting odd portraits in my mind, shaping characters and spaces that, while existent only in the psychic sense, nonetheless bore the same spirit of the old house whose halls I wandered in the waking hours.
Somehow, this place had spun the webs of its years around my mind, fastening my attention to its silken walls, and unreeling its mysteries around me like the gossamer threads of the spider, which leaves sleeping victims thread bound in its spindly kingdom, only to return later and devour them.
* * *
In the evenings, I would occasionally take to wandering the streets of this odd little mountain town that is Asheville, in order to help collect the thoughts of the day. Sometimes these evening ventures would last for hours. I would stroll by shops where art and paintings adorned the walls, and where spring flowers and mint leaves could be seen through the lighted windows. All the storefronts were quiet and empty this time of day, save maybe a late-night auction going on, or a fine restaurant where a foreign girl might come running to the door, recognizing the nighttime wander outside.
"Have you seen any aliens?" she asks cheerfully, knowing my interest in pursuing the unexplained. I tell her I hadn't, at least not tonight, but that if anything, maybe I was the alien.
Drifting along further into the night, I pass bars where singers and dancers played, and taverns where brothers, lovers and adversaries collected around table tops and dram glasses to sport the fare of social intoxication; the only medium safe enough for most people to have deep conversations anymore. I would carry along unnoticed outside, like a dark whisper on the breeze. I wander in silence, almost invisible, and watch the world go by as I stroll along aimlessly… dreaming of some bright afternoon with sunshine in great abundance, and lovely flowers ripe for picking.
During late-night romps like these, I often find myself imagining life the way it was in simpler times. I think of the days when Reynolds Mansion sat virtually alone on that mountainside across town, shielded from view by the mask of tall trunks of trees and dark shadows of the evening. I often consider the closeness and importance that family life had for people in those times. Reynolds Mansion hadn't only been a large building designed for aesthetic appeal; it was the family dwelling of one group of relatives for more than a century, colored by their visions and personalities, and despite no longer being occupied by the descendants of those pioneering families who built the place, it will forever remain a lasting testament to their way of life, their sense of purpose, and the important role the Reynolds family played in the founding and formation of this region. That mansion had long served as the foundation of their dreams, the culmination of their hopes and aspirations, and even today plays as aide-mémoire to the Reynolds legacy for all who enter.
These things tumbled along in my mind on this night, as I wandered Asheville's dampened city streets. I am one who has often been called an "old soul," and there are certainly nights, like this one, where I have indeed felt far removed from the present day. The expression of deep thought and consternation fitting my brow had drawn giggles from teenage girls as I trudged along in my contemplative promenade, oblivious to my own seriousness as I pondered the life and times of the Reynolds clan, and whether such possibilities as the existence of wayward spirits at the mansion today could truly be a reality. What is one to make of these sorts of tales about ghosts and the like? How is it that some are able to see the spirits of silent and long-dead ladies who lived there, while others—namely myself—remained oblivious to their coming and going, save only for echoes afforded me in tales from others who claim to have witnessed such odd, fascinating circumstances?
Could it really be so simple as the fact that no ghosts really existed there at all? Even Billy and Marti had shared stories where they felt, with certainty, that they too had seen things they couldn't explain. One evening, following a wedding that was held on the grounds earlier in the day, Marti and one of the other employees at the mansion named Jim had been straightening the house and preparing for breakfast the following morning. While there were still guests in the cottages adjacent to the house, no one had been allowed in the main building with them on this particular evening.
"I remember glancing up the staircase at one point," Marti would tell me later of the incident, "and thinking, did I just see that? It looked like someone's face had just darted right around the corner, peeking out at us, and then went right back." Marti began to ask Jim if he had seen anything, but before she could speak, his reaction had been the same, framing her own suspicions as he asked her about the same apparent apparition further up the staircase. No guests were to be allowed in the building at this hour; so who, or what, had been peering at them from the second floor?
Marti's daughter, Hannah, had also had an experience while staying at the mansion, which by comparison was probably more similar to some of my own encounters, in that it had taken place while she was staying in Maggie's Room. During the summer of 2012, Marti had been tasked with managing the Mansion while Billy and Michael were out of town on vacation. On one occasion she called me late in the afternoon to tell me Hannah would be coming home from college for the weekend, and that I should come spend the evening with them at Reynolds Mansion. My schedule would not permit a last minute visit, however; as it turns out, this may have been the one night I absolutely needed to be there.
Only a few weeks earlier, Marti had been visiting Riverside Cemetery in Asheville, where a number of the Reynolds family members have been buried over the years. Among the gravestones one will find not only the burial site of Senator Robert Rice Reynolds, but also his ancestor Daniel Reynolds, builder of the famous mansion that bears his namesake. Nearby, the modest grave of Annie Lee Reynolds rests as a plain slab of moss-covered stone protruding from the ground. As is often the case with older graves, dirt and lichen had slowly covered Annie Lee's headstone over the years, and so during her visit, Marti decided to take the time to clean the grave. Removing all the lichen and soil ended up taking hours, but in her persistence, Marti managed to get the aging stone much cleaner looking; arguably, she had been the first to do so in what had to be a very long time.
Returning to the night of Hannah's stay at Reynolds Mansion, the weather had been so bad that, upon her arrival, the lights in the mansion began to flicker violently, just before the power in the building went out completely. "We were without power for about three hours," Marti told me. Moving through the house, Marti and Hannah retrieved flashlights kept on the backs of unused guestroom doors throughout the place, and retreated to the parlor downstairs to wait out the storm.
After talking with her mother by the fireplace for a couple of hours, it became evident that the storm would ensue regardless, and so Hannah elected to retire for the evening, with at least some hope of sleeping tonight. She ascended the stairway toward Maggie's room, where she planned to stay, and after preparing for bed she finally locked the door behind her and crawled under the covers.
Suddenly, Hannah felt the sheets on the bed jerk very slightly toward her right side; surely this had only been her imagination playing tricks? But within mere moments, the tugging occurred again, this time with the corner of her covers moving noticeably as an unseen resident seemed to lift them, as if tucking Hannah into bed. Her treatment had not been frightening; if anything, she felt comforted by the sensation of an older woman standing there, tucking her covers around her. Perhaps Annie Lee's spirit chose to act this way out of gratitude for her mother's noble actions only a few weeks earlier.
* * *
Billy was no exception to having had experiences of his own, and like the others, told a number of unique stories about his countless hours spent alone in Reynolds Mansion. Several times when I would visit, I had recalled standing outside the rear entrance, and watching Billy exit the library where his desk was situated, he would head down the hallway to come greet me at the door. Without exception, Billy always kept his eyes to the ground as he walked along, as if to avoid looking directly into the tall mirror that faced the front entryway as he passed it.
"Billy," I finally asked one day. "Why do you keep your head down when you walk by that mirror?"
"Oh gosh, I won't ever look at it," he said a bit bashfully. "I've always heard that ghosts can show up in the reflection of mirrors, even when you don't see them in your normal line of sight, and so it's become habit for me to keep from looking in that mirror whenever I walk past it."
There might indeed be logic one could apply toward qualifying such beliefs. Reflective surfaces, after all, are gathering visible light, comprising one portion of the electromagnetic spectrum, and focusing it back outward into the environment. If we wanted to get speculative, we might consider whether the act of viewing visible light energy reflected off a surface (in other words, utilizing the mirrored surface as a sort of physical medium) could contribute to differences in the perception of certain things about a physical environment. While this sort of phenomenon certainly does not seem to be anything that is commonplace, given that such conditions might actually exist at all, we do know already that certain kinds of mirrors and filters can behave differently in terms of what varieties of light they reflect. Special mirrors known as dichroic filters can behave in such a way that visible light can be allowed to pass directly through them, while infrared light is reflected off their surface. These are more commonly referred to as "hot mirrors," and are used to prevent the build up of heat on electrical components and other areas by reflecting portions of the visible light spectrum that are unneeded for certain applications. All this to say, there are at least some instances where light as perceived by the naked eye, when compared with light reflected off the surface of a mirror, can vary in subtle ways. But even if we supposed that ghostly apparitions were operating within portions of, say for instance, the infrared realm as they manifested, it might still be difficult to say that this would cause them to appear more visibly in mirrors. On the other hand, it might certainly explain why strange apparitions are sometimes alleged to appear in photographs, since limited perception of the near-infrared realm has indeed become far more available to us in recent years, especially since the advent of digital cameras.
Perhaps a more likely explanation for some of the optical conditions mirrors can provide, which seem so conducive to spirit activity, has more to do with age-old practices such as scrying and mirror gazing. For centuries, various cultures have used reflective surfaces to elicit altered states of consciousness, where many have claimed to be able to communicate with the dead. The practice of divination using mirrors is generally referred to as Catoptromancy, and such practices were perhaps best represented in various rituals stemming from ancient Rome and Greece. One such early account, related by the ancient Greek traveler Pausanias, was described as follows:
Before the Temple of Ceres at Patras, there was a fountain, separated from the temple by a wall, and there was an oracle, very truthful, not for all events, but for the sick only. The sick person let down a mirror, suspended by a thread till its base touched the surface of the water, having first prayed to the goddess and offered incense. Then looking in the mirror, he saw the presage of death or recovery, according as the face appeared fresh and healthy, or of a ghastly aspect.
We also find reference to the curious magic of reflective surfaces with regard to the Oracle of the Dead at Thesprotia, which dealt with a process referred to by scholars as the nekyomanteion, or it's modern variant, the psychomanteum. What this process entailed was a darkened room with a large, reflective surface, which initiates to sacred rituals would gaze into from a vantage where their own reflection could not be seen. Such practices have traditionally been used to evoke altered states among various spiritualist practices throughout the centuries. Even in modern times, psychologists the likes of Dr. Raymond Moody have claimed to effectively implement similar practices; in his 1993 book Reunions, Moody discussed the modern implementation of a psychomanteum for purposes of grief counseling those suffering from anxiety and depression, often associated with the death of a loved one.
There may still be other reasons for Billy's discomfort, however, with direct regard to the large mirror in the hallway outside guest room Lila. One woman visiting the mansion early after Billy and Michael opened to the public had stayed in Lila, and described having an odd late-night encounter with a spirit that not only manifested nearby, but also seemed to share a unique message with her.
"There was a very tall elderly man I saw in the room last night," the woman announced at breakfast the next morning. "When he appeared before me, I thought I was dreaming, but then he began to tell me he was upset because the door over in the corner of the room was locked." Stories dating back several decades also mention this particular door joining guest room Lila—once the master bedroom of Daniel Reynolds—with the library next to it.
"She didn't know anything about those stories about the door," Billy told me excitedly of the woman's encounter. "She was just a guest!"
Billy had also had one fleeting experience, which he stopped just short of calling an encounter, that took place in the hallway outside Lila. "The only time that I ever thought I saw something myself in the house—and I don't really know if it could have just been my imagination—but I was standing here in the hallway, just outside Lila. I was winding up the chord to the vacuum, and out of the corner of my eye, standing right here by this mirror, I saw a very tall man. He had a beard, and was wearing a tan waistcoat that came very low," Billy said, gesturing with his hand to show the approximate length of the coat. "I jumped, because I saw it out of my peripheral vision. And the man wasn't there after I had jumped like that. But I said aloud, standing there by myself, my God, I think I just saw a ghost! It did really frighten me."
Billy's sighting of what appeared to be an apparition in his peripheral vision is also a common circumstance when it comes to stories taking place in haunted houses. Many who report seeing ghosts and apparitions will state that what they had seen appeared "out of the corner of my eye," much like Billy described. Again, this sort of circumstance may have something to do with the possibility that certain apparitional manifestations are occurring outside the normal jurisdictions of visible light; and interestingly, there may also be physical reasons underlying why some people report seeing ghosts in this manner.
Beginning in the 15th century during Japan's Sengoku period, historic references to the Shinobi, which were essentially ninja mercenaries, began to appear. These stealth warriors would incorporate a variety of different techniques for purposes of spying and espionage, among them the stereotypical dark garb for purposes of moving unseen by night. However, for one to be able to move effectively in darkness, it helps to also be able to see in darkness too. Quite obviously, night vision technologies would not begin to appear, even in their infancy, for another several hundred years; but the Shinobi, being resourceful as they were, may have begun to utilize other natural processes to help move past the complications that a demand for night-vision entailed.
According to ninjutsu historian and author Ashida Kim, these medieval ninja warriors had learned that an improved ability to see in near-darkness could be achieved by cultivating sight in the eye's periphery. Prior to a stealth operation by cover of darkness, the ninja were said to allow several minutes for their eyes to adjust completely to darkness. Then, as they began to move about, they would employ this night-vision technique, looking just to the side of an object or area they were viewing in near darkness, allowing their peripheral vision to help them better recognize their surroundings.
It is interesting that the ninja would stumble onto such a useful technique by the fifteenth century, since in modern times we know that the greatest concentration of rod cells within the retina exist around its outer edges. These particular cells, rather than being capable of recognizing color like their cousins, the cone cells, are better suited for vision in low-light settings. Thus, the physical reasons underlying one's strongest low-light vision existing in the periphery becomes apparent.
Taking this one step further, we know that a variety of animals, including domestic pets like dogs and cats, are far better equipped with night vision than humans. Such heightened natural abilities have long served members of the animal kingdom who evolved to survive as nocturnal hunters; interestingly, we also hear a variety of stories where pets living with people in homes alleged to be haunted are described as having a better ability to perceive the realms beyond. Again, this brings to mind the potential for certain electromagnetic aspects of spiritual phenomenon manifesting within the infrared portion of the spectrum; if this assumption were accurate, it might explain why not only animals seem to be able to perceive ghostly phenomenon more readily than humans, but also why people often claim to see apparitional forms with their peripheral vision.
I would come to find that there were still other parallels that existed with regard to the appearances of a tall, bearded man here at Reynolds Mansion, some of which became of direct personal relevance to my own experiences here. I was told that on one occasion, Jess had been upstairs in guest room Vera, polishing a mirror that hung on the wall directly adjacent to the main doorway. Again, from the corner of her eye, she very clearly saw in the mirror's reflection that a tall man was standing behind her, over by the entrance to the bathroom. Jess had hardly been given time to become startled, and turned to address the man instead, believing him to be one of the guests that weekend.
"I'm sorry, can I help you sir?" she started to say, but turning to face the doorway behind her, there was, of course, no man to be seen.
The man, according to Jess, had been tall and elderly, very thin, and sporting gray facial hair, much like the apparition seen in the downstairs portion of the building. But in all fairness, I had to accept that the description Jess had given also matched, with near perfection, the features of an elderly man I had witnessed in what I could only refer to as a "vision," where he lay in the old claw foot tub of Vera's darkened bathroom during my first visit at the mansion. For obvious reasons, I had initially elected to keep this story to myself; I had seen no apparition, but instead had only "seen" the man lying there in my imagination, as though something about the surroundings had prompted or triggered the image in my mind's eye. While the sensation this experience managed to draw for me was very strong, and even disturbing, I elected to keep the experience to myself, assuming that although it had carried an emotional impact at the time, it might prove to be less significant in hindsight. If anything, hearing Jess's story now seemed to lend a bit of credence to these circumstances, which up to that point I had hoped I merely imagined.
* * *
"You mean to tell me that you saw something up there in Vera also?"
Marti sat looking at me with an excited expression on her face, as though she could at any moment leap from her chair across the library. "And you never told anyone about this?"
"Well Marti, again I have to say… it was more like I had an image appear in my mind, as I entered the bathroom right there by the bed."
Marti just shook her head. "Amazing," she finally said. "Now tell me about this. Tell me all about it."
To read more of this fascinating true story, click here to visit my e-store.
You can also purchase print and Kindle editions of the book at Amazon.com. Also keep in mind that Amazon Prime subscribers can borrow and read Reynolds Mansion: An Invitation to the Past for free!