Catching for Keeps: Are UFOs Swallowing Aircraft?
on
February 1, 2013
at
7:10 pm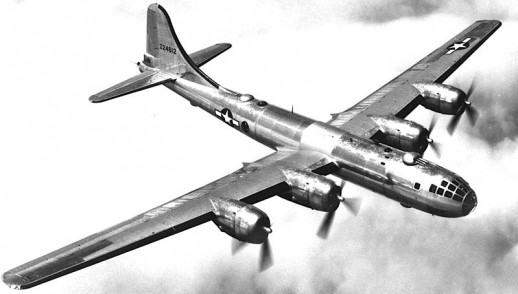 It sounds absurd, if not outright impossible: the notion that an entire manmade aircraft could vanish into thin air, and in mid-flight, leaving no trace of its whereabouts. And yet in several instances, this is precisely what seems to have happened. Hence, the disappearance of aircraft from our skies–both civilian and military–remains a persistent, though under-reported mystery of our time.
The greater question, of course, has to do with how an object the size of an airplane could simply vanish, let alone doing so while still airborne. Stories like the disappearance of Frederick Valentich, who went missing in 1978 while flying a Cessna 182L between Tasmania and the Australian mainland, only fuel the controversy. Valentich's story is well known in UFO circles: he had been a civilian pilot flying on course for King Island, when he contacted Melbourne Air Traffic Control to alert them about the presence of a mysterious "aircraft" accompanying him. As he described the green glowing object, Valentich's last dispatch to ATC would be, "That strange aircraft is hovering on top of me again… it is hovering and it's not an aircraft."
Neither Valentich, nor his plane, were ever seen again, and hence speculation about the disappearance included claims that the 20-year-old pilot may simply have become disoriented, or worse, had staged an alleged UFO incident as part of an elaborate suicide. While the circumstances behind Valentich's disappearance are truly strange, there are even more perplexing cases that involve military aircraft which have gone missing in similar fashion; and often paired with different varieties of unexplained aerial phenomenon. 
The Strange Case of "Renard"
In my book The UFO Singularity, I detailed a strange story that was featured in a 1993 book called Zeittunnel: Reisen an den Rand der Ewigkeit (Time Tunnel: Travel to the edge of eternity) by Ernst Meckelburg. This volume had been largely dedicated to the disappearances of aircraft as reported by both Allied and Axis powers throughout the Second World War.
One of the more enigmatic cases dealt with the disappearance of a large B-25 bomber that took place over Northern India in late 1944. A man named "Stewart," who had served as a pilot in the China Burma India Theater during the war, had written about this incident years before Meckelburg adapted the story for Zeittunnel. "We were a flight of three B-25s," Stewart recounted, "and I was in the right seat of the lead aircraft." As the three craft had flown over India, they at one point entered a small cluster of cumulus clouds. "As we entered them, the procedure was that the right wingman would rise up 200 feet, and the left wingman would descend 200 feet, so as not to collide in the clouds. I remember the guy on the right—I had flown with him before, his name was Reynard—continued this way, where he would rise up 200 feet, and come back down again. This happened about three or four times, and then he entered a cloud, and did not come out!"
Stewart reported the incident, but Reynard and his B-25 had vanished, and neither were ever recovered. After publishing an article on his strange experience decades later, Meckelburg contacted Stewart, and approached him about recounting the story in his upcoming book. "He had many reports from the Luftwaffe from that era, and also British aircraft. He had kinda collected their stories, and they were similar to mine, where airplanes just disappear into thin air." Meckelburg had supposed that UFOs might fit into the equation somehow. "His theory," Stewart noted, "was that there are sorts of parallel universes—that things can go in and out of universes–which would account for UFOs, of course."
"Our Aircraft are Disappearing from the Sky!"
In the May 1961 issue of Fate Magazine, researcher Tom Comella wrote a sensational piece that also dealt with the mysterious disappearances of military aircraft. Titled "Have UFO's Swallowed Our Aircraft?", the piece featured a revealing exchange between a Project Bluebook Sergeant named O.D. Hill and an informant of Comella's named Edgar Smith. The exchange, which Comella featured in the article, cited the Air Force's interest in UFOs as being aimed at preventing "another Pearl Harbor." However, this wasn't the only startling statement the sergeant would make during their conversation:
Smith: Why is your group so hard at work on UFO research?

Hill: To prevent another Pearl Harbor.

Smith: I viewed the television program that the Kraft theater put on  the other night. Is it true that some of our planes are disappearing?

Hill: I must confess to you that it is true our planes have and still are disappearing from the sky.
Comella noted here that, "Smith was startled and Sergeant Hill suddenly became very serious." The bizarre exchange then continued, with Smith probing for more details about the missing aircraft, for which O.D. Hill gave two examples:
1) The first incident dealt with an F-86 jet fighter, under observation by radar after being dispatched to investigate "a mysterious blip" presumed to be an unidentified flying object. At one point, the UFO began to move quickly toward the F-86, at which time radar operators attempted to warn the pilot of an oncoming approaching craft. According to Hill's testimony, the two objects visible on the radar screen "merged," and further contact with the single object proved unfruitful. The F-86 had vanished, and had presumably been "swallowed" (if not vaporized or otherwise destroyed) by the UFO. No wreckage or remains were ever found.
2) The second incident involved a military transport plane, which carried a crew of 26 persons. Within a distance of ten miles from the air base the transport craft had approached, radar operators again began tracking an unidentified aircraft moving at a high rate of speed (reportedly close to 2,500 mph). The object, after moving erratically through the sky for a short period, locked onto a fast, direct course for the transport aircraft; as in the earlier incident, radar operators watched the two blips on their radar screen merge, and then the single remaining object ascended and disappeared at incredible speed. No evidence of wreckage was found, although a general's briefcase was found floating in the water near the scene where the transport plane had vanished.
Comella followed up by approaching O.D. Hill's superior, an Air Force Captain named George T. Gregory who, at the time, was charged with overseeing Project Blue Book. Gregory, when asked bluntly about the missing aircraft reports by Comella, allegedly left the room, then upon returning blurted out that, "we just cannot talk about those cases." Comella took this to mean that Gregory had not expected such a question (which had obviously been leaked to Comella through his associate Edgar Smith, coming from O.D. Hill's original statements).
What can be made of these strange and highly disconcerting stories? Furthermore, what would be the purpose for capturing an entire aircraft in this way, with such awesome and terrifying forces that are capable of disabling even large military craft? To our knowledge, the disappearances remain a mystery, and none of the people alleged to have been "taken" in such incidents were ever returned, unharmed or otherwise. Arguably, a technology capable of capturing and removing people completely from known existence is troubling; and arguably, it implies that there are, in fact, aspects of the greater UFO phenomenon that could be considered unfriendly or dangerous… perhaps even hostile by Earth's standards.
ADDENDA: Over at the website JohnKeel.com, one of the late Fortean's files was recently made available, depicting a questionnaire of sorts that was allegedly filled out by an ultradimensional intelligence calling itself "Appell" (readers of The Mothman Prophecies may be familiar with this name already). On the form, prepared by Keel himself, he asks about a similar incident in which six military planes had disappeared in 1945. The document can be viewed by clicking here.