Intergalactic Insurance: Is It Worth It?
on
November 20, 2012
at
3:20 pm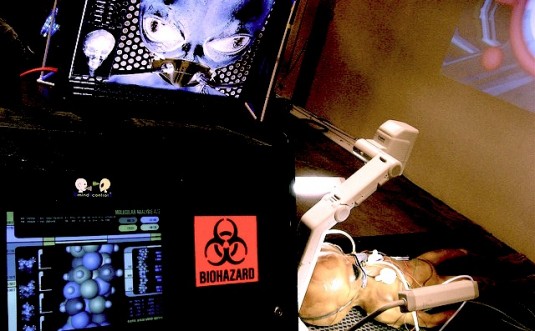 By Matt Oakley
Some American citizens are rapidly scrambling to figure out what is going to happen in the year 2014, when so called "Obama-care" rolls out in full force.  Many allegations about the decline of the future economic state of our nation, as well as the future of health care as we know it, have peppered the media since the bill's introduction back in 2010.  And while these are important issues that we must discuss and face here in the United States, some insurance companies are looking towards a different kind of issue that all of humanity must face.
Now, you and yours can purchase insurance that provides a more "intergalactic" outlook on things; more specifically, Alien Abduction Insurance policies are now offered by several companies the world over. First put into action during the summer of 1987 by St. Lawrence Agency in Altamonte Springs, Florida, companies that offer this type of coverage say that they have had over 20,000 people apply for coverage that would literally protect against the ails that may be associated with alien abduction.
Even more enticing?  They have paid out at least two of the claims since the inception of Abduction Insurance. In these cases, the carrier has paid out $1.00 per year to the claimant until they meet their demise (whether this is under terrestrial conditions or otherwise), or until the one million year mark is reached, whichever happens first.
For other companies, the average policy costs around $150.00 per $1.5 million payout for coverage.  Coverage is provided for a range of ailments such as; alien pregnancy, otherworldly examinations, and even the occasional unfortunate death by extraterrestrials.  Simon Burgess, who was the Managing Director of British Insurance for many years, has said that "Of course, the burden of proof lies with the claimant.  Let's face it – insurance is so tedious that if I can enlighten my dreary life with a bit of humor every now and again, I will."
While Burgess' approach may seem insulting to some, we need to be reminded of the fact that these claims have been paid in the past.  What type of conclusive proof has been brought before an insurance board to allow a payout on these claims?  For some people It's hard enough to collect on claims for property and personal insurance, with causes that we've all seen a million times over. But benefactors of the abduction coverage seem to have proven something that others have searched their entire lives for.  Perhaps the rest of us can take comfort in the fact that hope may be on the horizon for those seeking the answer to the question "Are we alone in the universe?", even if that hope has come out of an unlikely place.
Visiting the website for the St. Lawrence Agency gives you the feeling that you've reached one of those dark bowers of the internet that you were warned about for some many years. Nonetheless, I decided that it was time Gralien International invested in some protection; I took it upon myself to send the following message (entitled URGENT!) to my employer:
"Scott,

I'm contacting you this fine morning to let you in on the opportunity of a lifetime.  After a three day bender of a weekend, I was working on the transcription piece, as well as more content for the Gralien Report, and I stumbled across something that has really gotten me thinking.

My offer is as follows; deduct $7.95 off of the fee that I requested for doing the transcription piece.  Why?  This is probably the question that you're asking yourself right now, and let me tell you the answer is damn good.

Alien Abduction Insurance.  For a nominal one-time fee of $7.95, my name will be on an insurance policy for the rest of my life that guarantees a payout of $10,000,000.00 in the event that I am ever abducted by extraterrestrials (and can provide conclusive proof of the event). What price for peace of mind, eh?

Of course, I myself would pay the premium, however, money is tight here right now, and I figure if it is deducted from my initial fee of $75.00, it'll be like I never had that money anyway.  In our line of work, I feel like this is not only necessary, but also provides the ability for us to cover this type of subject matter in a proper fashion."
The response was swift.  "Deduct away. Buy two policies. That way we are doubly indemnified."  So I began the process, and with any luck, I will soon be approved for Alien Abduction coverage.  And while it may seem like something that is an unnecessary expenditure for an unlikely situation… what price would you pay for peace of mind?
Image by Steve Jurvetson via Flickr.