Skepticism in the Debate over UFOs
on
March 3, 2013
at
12:18 pm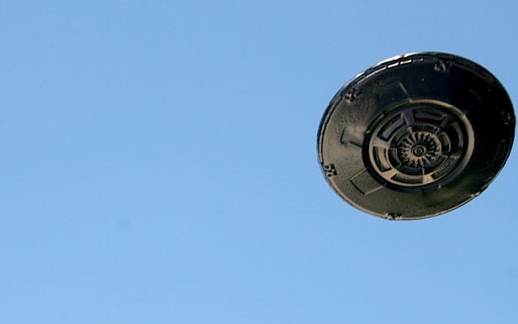 During my time here at the 2013 International UFO Congress over the last week, there has been (as expected) quite a bit of debate regarding not just UFOs, but as researchers, how to proceed with the future of UFO studies. Since I advocate a rationally (and reasonably) skeptical approach to the study of unexplained phenomenon, I often am met with dissatisfaction from the "enthusiasts" attending events like this one; one gentleman I've befriended during my visit had begun our discussion by kindly offering a bit of constructive criticism, arguing that in my entire hour and fifteen-minute presentation he had found "a great speaker offering very little content."
He resolved that there was no need for the kind of skeptical argument I was presenting, which essentially advocates a less ET-centric approach to UFO studies. In his view, the largest portion of the audience here at the IUFOC had already accepted "clear evidence" of the extraterrestrial component to UFO reports. "Well why then," I argued, "did my friend James Fox offer a $100,000 award for proof of extraterrestrials this year during his lecture?" After a bit more talking and lively debate, my new friend and I resolved that our differences were rooted primarily in this: the content I had featured in my presentation simply had not catered to his particular viewpoint regarding the UFO mystery, and thus, in his opinion, it had lacked content.
I disagree, of course… and find that new approaches to trying to understand the UFO enigma are not only necessary… they're vital. If there were clear proof of a UFO-extraterrestrial connection, I have to assume there would be little need for debate the likes of which I outlined above. And thus, while I wouldn't argue that I fit into the popular "skeptic" camp as well as I might be received by an open-minded community of UFO advocates, I have been pleased thus far by the more reasonable commentary I'm getting from those in the skeptical camp regarding my presentation on the subject of UFOs and technological singularity. I don't know if I've been heralded as the poster-child of the new UFO skepticism just yet, I would nonetheless argue that many of the skeptical bloggers have been far more kind than the UFO "believers" I've met…
Over at her site Doubtful News, my friend Sharon Hill featured some of the running commentary from skeptical bloggers visiting the Congress this year. I particularly liked some of the observations made by Tyler Kokjohn, who said:
Mr. Hanks may represent the future of UFO studies. Young, animated and new media savvy, he projected strong dissatisfaction with the present state of 'ufology.' Describing his method as a fundamentally skeptical approach with conclusions dictated by facts, he stated explicitly that he has yet to see convincing proof UFOs are of extraterrestrial origin. Noting that scientific understanding of UFOs has not advanced in the decades since the 1947 Roswell event, Mr. Hanks called for new explanatory paradigms. Disenchanted with the endless study of UFO history, he suggests the answers lie in our future.
Granted, there was also reasonable dissatisfaction from giving a presentation that, albeit rooted in open-minded, but skeptical research, still sought to advocate new approaches to studying UFOs:
Delving further into the nature of time itself and mathematical synchronicities that I simply could not comprehend, he indicated answers to the present UFO enigma will simply emerge as our technologies and intelligence evolve. The invocation of complex physics without even a superficial effort to provide background information always makes me suspicious. However, everyone else seemed to get it, suggesting I have some evolving to do.
Noted skeptic Robert Sheaffer has also been in attendance, and of course, though he bows his head and looks away every time I'm standing nearby, he offered that my premise regarding UFO singularity is essentially "glib":
The first speaker of the day was Micah Hanks, author and researcher and another very glib speaker, talking about "The UFO Singularity." Futurists like to talk about the coming "singularity," meaning that as our machines' artificial intelligence continues to increase, for precisely one moment of time their intelligence will equal ours – and then forever afterward, theirs will be greater. Intelligent machines will then be the dominant force on this planet, and this may lead to a heaven on earth, or perhaps a hell (as in the movie The Matrix). This, of course, has nothing to do with UFOs.
Sheaffer's brand of skepticism is something I refer to as really being more snarky at times, rather than skeptical, and hence perhaps we'll resolve to call him a bit of a "snarktic" just for fun… though I mean it in good humor, because what he wrote was, for the most part, very reasonable, and I appreciate the attention Sheaffer devoted to my presentation. Maybe before I head down for the conference wrap-up (which will feature a panel discussion later this afternoon between Richard Dolan, Stanton Friedman, and myself), I'll try and hunt Sheaffer down and buy him a cup of coffee.
After all, thus far it seems the response from the skeptics hasn't been all that bad, at least in my opinion… and yes, I think that criticism is absolutely necessary in terms of helping any researcher mold and sharpen their argument. In fact, I like to think of polite, skeptical criticism between researchers as a kind of social equivalent (at least in blogging circles like this) to scientific peer-review… and both of these are something the UFO field, in my opinion, could use plenty more of.
UFO image via Wikimedia Creative Commons.