Strange Triangles in the Southern Skies?
on
December 22, 2012
at
5:57 pm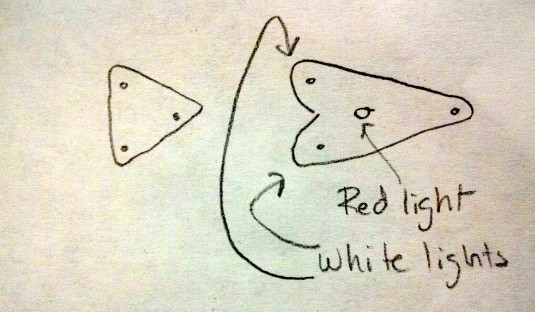 In recent weeks, a number of reports have been filed by groups like the Mutual UFO Network (MUFON), pertaining to sightings of large, silent "triangles" and other strange, unidentified craft. Roger Marsh of the UFO Examiner recently provided commentary on this phenomenon in an article at his site, "Skeptic Expresses Fear After Low UFO Encounter over North Carolina".
Located in the Western part of the same state, I was not surprised in the least to hear about this very credible encounter, in which the witness managed to provide photographs of two strange objects moving through the night sky. In fact, I recently received an unusual text message from a friend of mine, Susan Davidson, which dealt with the apparent presence of two unidentified triangle or delta-shaped objects seen over Greer, South Carolina, on the evening of December 13, 2012, at approximately 11:00 PM.
Incidentally, my brother and I had been nearby on the same evening, wrapping up a performance as the house band that evening in the nearby city of Greenville, when I received a text from Susan that read as follows:
"Two huge unidentified quiet delta-shaped things just moved slowly over us!!" Susan's message read. "NEVER seen anything like these… (my husband) can't identify the aircraft and he knows them all!"
The story was compelling, of course, not merely because of the purported objects, but also because of the witnesses themselves. Susan, a close friend of mine, has worked closely with me over the last two years, both as a booking agent for the musical pursuits of my brother and I, as well as an assistant to a variety of projects related to my research and writing as a UFO investigator. Hence, she has a good bit of knowledge as to what kinds of objects seen in the night sky would truly constitute being "unknown"… and fortunately, she wasn't alone…


Triangles through an Engineer's Eyes?
Susan's Husband, on the other hand, while less interested in ufology, is nonetheless an interesting witness to so-called "UFO" craft. An engineer by trade, her husband is also an amateur flight enthusiast, who co-organizes one of the largest remote-controlled model plane events held in the Southeast every year. It was Susan's description of her husband's reaction to the occurrence that really got me thinking.
"I called to him, and asked him to come outside and see these things," Susan told me. "When he got out there, they were still visible, and were directly over us, moving very slowly, making only a low whooshing or a sort of rumbling sound. He stared up at these things, and spoke aloud as he tried to rationalize what he was seeing, but neither of us had ever seen anything quite like this."
According to Susan, the strange triangles seemed to consist of a larger craft in front, which she described as being slightly more delta-shaped, fitted with red and white lights. Directly behind it, and at close range, was a smaller, triangular craft which Susan referred to as an "escort" to the larger craft. The two maintained this close formation for the duration of the sighting, and after they left Susan's line of sight, she sketched what she had seen, supplying me with the image above.
I spoke with Susan the following day, and during the course of our conversation (which lasted close to two hours), I found that she had taken measures to follow up on what she had observed independently of describing the craft to me. She had called the local Greenville Spartanburg Airport, which had initially suggested Susan had seen a helicopter. However, once she described he direction, shape, and speed the objects had been moving, the official she had spoken with advised that this did not match any records for craft in the area at that time.
So what were the strange "triangles" (similar to others reported at this website, see image below) that Susan witnessed over South Carolina earlier this month? Are they the same sorts of objects that so many others claim to be seeing around various parts of the Southeast?