A Grateful Christmas Poem for 2012
on
December 24, 2012
at
2:28 pm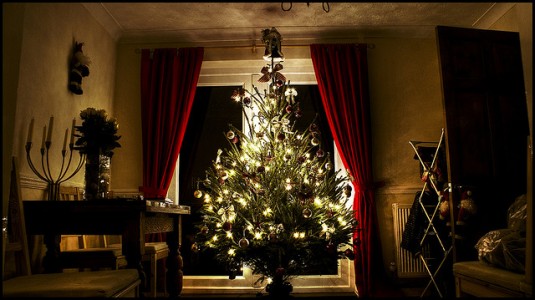 I think every one of us can recall hearing poems over the years, especially childhood favorites the likes of  "A Visit from St. Nicholas", better known as"'Twas the Night Before Christmas" from its memorable openings line. The anonymous poem, first published in 1823 and remaining a favorite still today, effectively summarizes the essences of Christmas, from the joy and excitement of gift giving, to the archaic imagery of Father Christmas and the symbolism featured around this holiday, which harkens back to earlier times and cultures.
All too often, we are presented with cheesy renditions of famous poems like the aforementioned "Night Before Christmas," which change the wording and themes to convey popular memes and other modern cultural staples, typically for humor and general amusement. Hence, below I've included my own original Christmas poem, entitled "I'm Grateful at Christmas This Year," which at least in some capacity, I think hits the mark I was seeking. If anything, I hope that it may add a little to the joy I wish for you and your family this holiday season.
I'm Grateful at Christmas This Year
A blanket of heat from the fireplace near,
Provides transparent covers from 'cross the great hall
And the joyful Yule shouting of Christmas hoorahs
Echos from upstairs, against decorated walls
A brandy-filled glass, preferred over eggnog
And light Christmas music, a soft mellow voice
The cheer of the season fills both home and heart
As fathers, mothers and kindred rejoice
'Tis a season that makes a unique time for pause,
A still from man's toils, repast for the spirit
And the comfort of little grey bells left to jingle
The softest tintinnabulation, to hear it
Embraced, is the soft glimmering silence like this,
Alone in a warm empty room down below,
Alone, but for an infant girl resting nearby,
Her breathing, like a calming companion to know
Amidst the soft tinkling of bells ringing elsewhere,
The quiet little sighs, as the toddler lies dreaming
And the crackling of fire, as it warms us together
An otherwise cold dreary night, now redeeming
The brandy removes itself more from my glass,
The bellowing of little dogs barking 'cross the glen
They remind me of home, of that place I once knew,
Of that fair young colleen that I favored, back then
Where is she now, that daughter of Eve,
Whom the fain of my heart, once had been held
I can't help but miss her, the way she once knew me
I'd thought she might be here, but for hopes long since felled
But my mind, returning again to this moment,
Remembers the joy of the child resting near
I see her in happy, quiet slumber, and think
For my soul, I'm grateful for Christmas this year.
That our lives wrought in question, or bittersweet passion
Can find warm comfort, in the coldest of seasons
Is a reminder of just how well favored we've been,
How blessed our lives are, and for so many reasons
And upstairs that trumpeter's song goes to blaring
From lips pressed to brass, come the tones of his horn
And the tinkling of glasses accompany his song,
"'Tis Christmas," they cry, "our Lord has been born!"
This family, their love, and the meals they provide,
For them I am thankful, both kind and sincere,
And alone in the silence, again my glass raises
I am so very grateful for Christmas this year
At this moment, the faint sound of stepping alerts me,
Begging attention of both eye and of ear,
And my gaze meets a face that appears in the doorway
Her brown eyes betraying excitement and cheer
My guest quickly joins me here on the loveseat
My glass is refilled, and before I can thank her,
She laughs as she relays the happenings of upstairs,
The decking of holly wreathes all 'round the foyer
And softly, our sleeping companion now giggles,
Though barely awake, she abandons her rest
And the lass pressed against me, my sister in spirit,
First startled, now laughs and retrieves our small guest
Our dewy eyed kindred shares all her dreams with us,
Stories we both are now eager to hear,
And again, as we're huddled by the warmth of this fire,
I feel blessed, and I'm grateful for Christmas this year.
Image by Steve Wilson via Flickr.